I apologize I didn't get this posted on Friday; the Christmas season gets so busy...especially when you have five little ones! I have been love, love, loving your holiday and Christmas themed posts. Thank you for sharing them with me. We've been linking up our best, favorite Christmas themed posts, all season long. There is one week left to come link up, as this Holiday Link up party will close on Friday the 30th.
REMEMBER, the entries are set to be in random order, so each week it will look different and different posts will have an even chance to be at the top of each linky category~~ even if you link up late, you might still be first! So add a favorite from last year to get us started and then come back this Friday (which is the last week) and add your new ones as you post them to your blog. Your post must be appropriate for Christmas festivities and come from a family friendly blog. You do not have to link back to Brighton Park, but if you wanted to link back or add the HIP button to your sidebar from now till Christmas that would be lovely! So lets get started...there are three linkies below...one for recipes, one for crafts and one for "other". Check back each Friday, add more, and see if you have been featured!~~Katie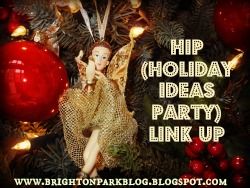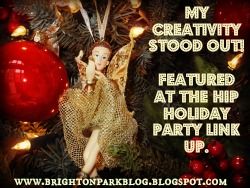 The most viewed posts this past week were this great Winter votives
submitted by Farmhouse 38!
photo: Farmhouse 38

and the Christmas Quilt submitted by Homepiecing!


photo: homepiecing


Next week, we will feature two posts linked up so be sure to check back; it could be you! If you were featured, be sure and grab the I was Featured button above for your sidebar...Remember this coming week is the last week the linky will be open. You are welcome to link up old as well as new posts!





HIP HOLIDAY PARTY RECIPES


HIP HOLIDAY PARTY CRAFTS/DECORATING


HIP HOLIDAY PARTY OTHER (inspiration, family memories, gift ideas, you name it..it goes here)


Thanks to one of our holiday sponsors... The Dorothy Jane Etsy Shop! I love this shop that features all things romantic vintage papergoods (tags, homemade books, journals, bookmarks and more) in themes like Paris, Vintage Christmas, Shakespeare, JANE AUSTEN, Ballet and more... With price points starting at under $5, it is a great shop for those little gifts you need all year long!
This holiday season and beyond, please think handmade family owned businesses! Shopping Etsy supports families directly, not corporations!

Subscribe to Brighton Park by Email