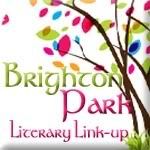 Happy New Year!
What's on your nightstand?
Welcome to our new monthly literary link up here at Brighton Park. This is a month long link-up that will start each month on the
first of the month
and run to the
last day
of the month. Come each month and share as many posts as you wish telling us about...what you are reading, what are you reading to your children, or, a book you are using in your homeschool that you just love, your new favorite cookbook, etc.
Did you recently review a book (cookbook, homesteading, homeschooling, childrens, religious, whatever) for a sponsor or publisher? Yes, you can link that post up here too!
If it's literary then its welcome
...with one--no, make that two--small exceptions... I know that "Mom Porn" (Shades of Grey, anyone?) is all the rage now, but please don't link that up here...cause, well, it's gross. And don't link up your own giveaways or linkys because, Ladies...that's tacky.
So, here's what's on my nightstand and the linky follows...
Last year's tax season project was the
Girls Shared Bedroom Makeover
, and so this year updating their bathroom with a new girly theme is also on my home improvement radar. I am also getting ready to start converting our formal dining room into a music room. Because of these lurking home decor projects...Enter one of my new favorite books...
Inspired You: Letting God Breathe New Life Into Your Heart and Home
This book written by Miss Mustard Seed (who has a fab DIY blog of the same name) is really inspiring me to find my own decorating style and incorporate some much needed decoration cohesion into my domestic space in spite of the books and toys and stuff that comes with 5 children under 12.
Some of my favorite chapters so far:
~~All the amazing before and after pictures of the rooms in her home and how she accomplished the "afters" spending very little money.
~~The chapter that shows in step by step , looks completely do-able directions, on how to sew my own pleated window coverings.
~~The chapters on how to refinish old furniture all different ways (French Provencal, new made to look antique, and more)...
I am also reading:
Celebrate: A Year of Festivities for Families and Friends
by Pippa Middleton

I would have bought this book for the Scottish Robert Burns night themed supper party alone, but there is just so much in this book. I love that it is divided by SEASONS and includes not just birthday parties, but supper parties, holidays, brunches, breakfasts, afternoon teas...even camping and picnics. Decor, Crafts, and Recipes galore. Love. Love. Love. Did you know that Amazon.com carries this book for half off what the big book retailers do? Love Infinitum.

And that is what's on my nightstand this month!

Please add your post to our linky...what have you been reading?~~Katie
Subscribe to Brighton Park by Email